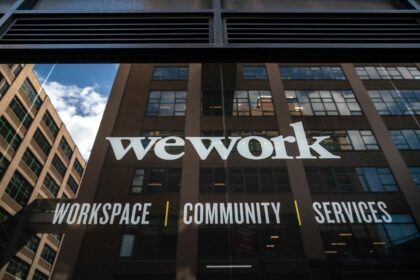 WeWork has been in the news for the last few months, mostly for all the wrong reasons.
While I will touch on some of the controversies that have plagued this disruptor and unicorn later, I am more keen to try and understand their target area and the business model that they were trying to make a success of…
My interest in this space came about by two recent happenings… One when I had to record a video urgently to be played at a business summit in Singapore at very short notice and I managed to get a room in a shared working space for an hourly rent where the video could be shot with all tech facilities being readily available.
Second, when a close friend of mine put in his papers but wanted to operate for a month from a shared office concept since working from home did not seem to be something that led to productive results, I was also part of the search for a space, which could be hired for a monthly rent…
So shared office space concept is something that is something that is very useful and that is in demand a lot right now, which is probably what WeWork set out to do way back in 2010.
WeWork took the boring, shared-office-space concept, added kombucha on tap and the allure of working in a cool, hip, aesthetically pleasing environment and became one of the most highly valued unicorn companies, reaching a reported peak valuation of $47 billion.
The first WeWork opened in New York in 2010. Since then, the company has expanded to 425 locations, servicing more than 400,000 freelancers, startups, and larger companies with remote staffers and a website with an Airbnb-like interface showing airy offices in cities as far-flung as Warsaw, Poland, and Lima, Peru.
However, the concept didn't really start with WeWork but as Green Desk, which was formed in 2008.In 2008, Green Desk became an early incarnation of WeWork. The company offered sustainable co-working spaces featuring recycled furniture, free-trade coffee, and green office supplies.
Customers, called "members," could rent a desk or a private office month to month. Neumann and McKelvey the founders made money by charging more for those spaces than their lease payments. Green Desk offered most things individuals and small companies needed: fully furnished offices, conference rooms, high-speed internet access, utilities, printing, and a stocked kitchen.
In 2008 as the economy buckled under the weight of a failing real-estate market, Green Desk thrived. Neumann hypothesized that people liked being part of a community. Some who were laid off during the financial crisis started new businesses out of Green Desk.
Something clicked for Neumann and McKelvey. They saw that it was the focus on community, that drove people to Green Desk. In 2010, they sold their stake and began WeWork.
For those keen to know the size of the potentially disrupted commercial real estate addressable market… According to WeWork, the market opportunity is valued at around $1.6 trillion. The competitor strength of the offering according to WeWork claims is the ability to deliver its members lower prices, compared to existing alternatives, and the fact that overall members joining WeWork spaces will save money as they scale.
So what was WeWork's Business Model?
WeWork runs a membership model that is monetized via a set of packages, which include ancillary value-added products and services to enable companies to scale or shrink their workspace on-demand.
WeWork defined its revenue model space-as-a-service claimed to be more scalable than a traditional commercial real estate. The thesis behind the WeWork business model is that it manages to create a commercial real estate platform that connects the demand of office spaces, related services, and additional products, with the supply. That platform will capture value as a fraction of the market in the form of subscription revenue.
And in more detail…
1.Platform business model
In general, a platform business model has to have a high component of network effects, leveraged by proprietary algorithms, and technologies. While WeWork does use advanced technologies in some of the services it offers, to organize the spaces around which its services are offered, it's hard to call the company a platform based one
2.Community building company
WeWork also emphasizes itself as a community-building company that might leverage data and technology, rather than just a real estate company. This is one segment where there is a lot of interest and requirement from people and could well be the actual business model we work should target at
3. Space as a service model
This model introduces a set of products and services that makes space rented only the foundation of the whole model. With space, this membership model leverages on several elements such as:
· Data
· Technology
· Ancillary services spanning from health to lifestyle
In other words, beyond the physical locations offered by the company, WeWork also offers a set of services meant to enable members to scale their teams. Thus, the core of the revenue model is a membership, and on top of that a set of ancillary, value-added products and services.
What are the revenue streams of WeWork?
1. 83% of the total revenues from monthly memberships
2. An additional 12% came from additional products and services offered by the company to its members.
3. A remaining 5% comes from a few additional services on top of the membership (conference rooms, printing credits, and commissions of the sale)
As of 2018, WeWork made over $1.8 billion in revenues, yet it reported over $1.9 billion in net losses. In order to improve the stability of its membership base, WeWork managed to onboard enterprise customers, which by June 2019 made up 40% of the memberships.
What were the disablers for the existing business model?
1. Real Estate Base; However much WeWork would like to project itself as a technology company the assets that it is selling or promoting is real estate. In real estate, each local market will have a set of unique requirements, which WeWork has not factored in.
2.Cash negative business model: for how it's structured the WeWork model has a negative cash flow, as it will advance money as contractual obligations, which amount to many billions throughout the years while the membership amounts collected will be of much smaller value and hence the need for the company to keep scaling up continuously
3. There are also some policies adopted like the promoters that are really not transparent like what WeWork cofounder and CEO Adam Neumann did when he changed the company's official name to the We Company. Conveniently, he previously trademarked the name and charged his own company about $9 million for using it.
What were the trends that made WeWork possible?
· Urbanization
· Globalization
· Independent workforce
· Flexible solutions
· Workplace culture
· Diversity of creativity
· Community Culture
All these trends continue to be present and still very much in demand.
So the basic business model adopted by WeWork was one, which targeted specific unmet customer requirements and hence stands a very good chance to be successful if it focuses on the still very much in demand customer requirements.
Whether the corrective measures taken by the investors will lead to the same or whether another better-managed disruptor emerges to contest this space is something that we will need to wait and watch for…
Till then keep believing in Disruption!