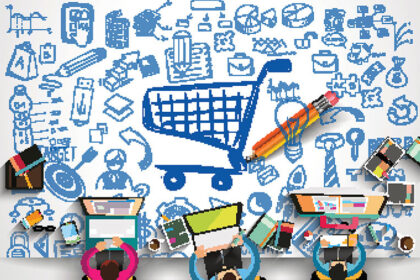 We have all got used to the convenience of buying things online particularly for things where size and shapes doesn't' matter… I for example order all my weekly household requirements from big basket … obtain the books I want to read from Amazon or Flipkart depending on who offers a better price and a couple of weeks back ordered a mobile phone for my daughter from Amazon…So while we have all got used to the convenience that this offers where the e- commerce industry is headed now…
Version 2.0 of e-commerce is getting bigger and better.
Worldwide retail e-commerce is expected to reach $ 4.9 trillion in 2021 a 265% growth rate, from $1.3 trillion in 2014. In fact, by 2021, it will account for 17.5% of the total global retail sales. If you think about it, that portion is still a small chunk of the global retail sales. This means more opportunity for growth in the future.
A Deloitte India and Retailers Association of India (RAI) report entitled 'Unravelling the Indian Consumer' estimates that the Indian ecommerce marketplace is currently valued at $200 bn and will likely grow to $1.2 tn by 2021 at a CAGR of 32%.
So what are the changes that are likely to come in the e commerce sector which is likely to drive growth further
1– Omnichannel shopping
As the lines blur between the physical and digital environment, multiple channels will become more prevalent in customers' path to purchase. It is estimated that 73% of customers use multiple channels during their shopping journey.
For instance, people can research a product online and then buy in-store, or buy products online and pick up in-store. The more channels your shoppers use, the more likelihood of an increased average order value. For example, customers who used more than 4 shopping channels spent 9% more in the store, on average, when compared to those who used just one channel. Every single touchpoint is important because it puts every single piece of the puzzle into a whole story. So we are likely to see creation of more and more touch points which will induce us towards the purchase at times even without our knowledge
In India we have the local kirana stores at every nook and corner…It is anticipated that the number of digitised kirana stores will grow from 15000 to 5 million by 2023 and this would become the last mile of the e commerce chain speeding up delivery and drastically dropping costs.
2 – Social shopping
More and more people are doing their shopping on social media platforms. With the improvement of social media's selling capabilities, social media platforms are more than just advertising channels. People can now conveniently and quickly purchase products on their chosen social media platform. Instagram, Twitter, Pinterest, Facebook, and YouTube are among the social media channels, which rolled out the "buy" buttons and made significant improvement their social selling features.
This eCommerce trend cuts the time and effort for shoppers to make their purchase on social media; making them, shop more productively and hence is likely to grow exponentially.
Players such as Meesho and Shop101 are leveraging social networking platforms such as WhatsApp for online reselling and this trend is expected to grow
3 – B2B eCommerce
B2B eCommerce is the online selling and marketing of products from one business to another. In addition, when compared to the B2C (business-to-consumer) eCommerce industry, B2B eCommerce is projected to be two times higher than B2C by 2020. In the US alone, B2B eCommerce sales will hit 1.184 trillion dollars by 2021. The predominance of B2B ecommerce means that B2B businesses must improve and simplify their shopping journey, channelling the B2C ordering experience. The B2B shopping experience is a lot more complicated than that of a B2C buyer. Because of the nature of the transaction, B2B buyers usually need to go through various steps, including sales representative interaction, negotiations, and approvals before they can make a successful purchase. In short, B2B eCommerce businesses must adapt to a more seamless transaction building advanced functionality quote management, price negotiation, easy ordering, order and inventory management for the B2B market
In India Udaan plans to disrupt the overall B2B market, which is expected to be around $700 Bn by 2020, according to an 2016 study by Confederation of Indian Industry and Deloitte
4 – Personalisation-Personalisation-Personalisation
Ecommerce personalization has become a huge trend among businesses over the past couple of years but in 2019 and the succeeding years to come; it will not just be a mere trend. As customers expectation of personalization increases, personalization will become an eCommerce standard. In fact, 33% of customers have ended their relationship to a business with insufficient or no personalization in place. Moreover, personalization has evolved into a more sophisticated marketing strategy. Personalisation will be done more and more by analysing personal information, which ranges from demographics, browsing behaviour, buying history, and other data relevant to their shopping journey…
5– Mobile shopping revolution
With their mobile devices, shoppers can now browse, research and purchase products, whenever and wherever they want. Mobile shopping is expected to account for up to $175.4 billion in revenue by the year 2020.
6 – Automated Operations
The processes that are likely to be automated are inventory management, order processing, invoice and billing, delivery schedules and handling returns and refunds.
This is because multi-channel buying and mobile commerce will only be possible if a retailer has real-time information about stock levels for various products, when orders are shipped (including the approximate time in transit) and offering a variety of payment methods for customers' convenience.
Research clearly indicates that customer satisfaction will be one of the most important factors influencing loyalty and repeat purchases in the ecommerce future, which further pushed the need for automation.
7 – Voice commerce
A very recent trend to the eCommerce world is the rise of voice technology. The introduction of voice devices, like Amazon Echo and Google Home, has already led to new ways on how people interact with brands through voice-activated online browsing. This voice browsing has been widely adopted by customers and now, voice commerce is on the rise too. Voice commerce is the term used to describe any transaction with a business that occurs using a voice device. This opened a new channel for eCommerce businesses to sell and grow their businesses. In fact, it is estimated that by 2020, voice commerce will generate a total of $40 billion in sales in the U.S. alone. Amazon introduced voice purchasing last November 2016 by allowing users to purchase holiday items using Alexa.
8 – New payment options
Currently, digital wallets, such as Google Pay, PayPal, Apple or Samsung Pay are widely implemented by eCommerce businesses. This digital services allow people to make purchases through electronic transactions, thus allowing more frictionless shopping experience But, another payment option that's been cooking up a storm for a while now is cryptocurrency. So far, we can see cryptocurrencies being used for large business transactions. However, Overstock recently collaborated with ShapeShift to accept more than 60 cryptocurrencies as payment at its online stores.
9-Super Apps
These are apps, which will be introduced by e commerce companies where you can use them for all your requirements like paying the electricity bill or booking flight tickets or whatever you need to do. These are done by partnering with other apps and Phone Pe of Flipkart is one such app which is already present in this domain
10-Data Protection
Given the recent data breaches that have hit the financial institutions, hospitality organisations as well as social media platforms, data privacy and protection will be paramount customer concerns in the coming days. Simply put, people will be less willing to download mobile apps and enter payment information online, if they fear that their personal data will fall in the wrong hands and be misused
There is no doubt that e commerce will grow and evolve incorporating the physical stores where they are needed and vice versa. As these merge into a connected world, almost all categories of products will be added to the Digital bandwagon.
As technologies like Digital trial rooms evolve and mature the customers, shopping options and experience is only expected to move in one direction. Up, Up and Up…
Watch this space for more…