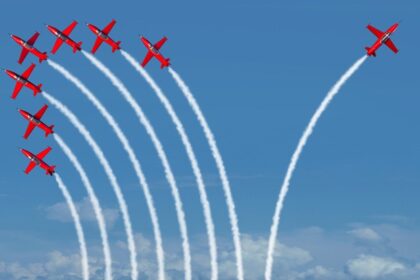 I first came across low end product innovation in the late nineties when Akai and Aiwa colour televisions were launched in the Indian markets..Though at that time probably I didn't acknowledge their success mainly due to the factor that I was then working for the market leader in that category…But looking back these were low end disruption at work..
Disruptions that occur at the low end of the original or mainstream value network are what are often called low end disruptions…What was very confusing was that whenever these lower end disruptions happened the existing incumbents ignored the entry of the new player or seemed happy to at times even exist that low end market ..Lets understand this with an example of a market where this keeps happening again and again
Retailing is one sector where low end disruptions have been happening again and again. Full service department stores had a business model that enabled them to turn inventories three times a year. They needed to earn 40% gross margin to make money within their cost structures. So with three rotations in a year they earned close to 120% of capital invested in inventory. In the 1960s when discount retailers like Walmart and K Mart came up they attacked the lower end of the department stores market. These discount retailers first targeted products like hardware ,Paint, kitchen utensils, toys and sporting goods..These were basically items which customers were very familiar with a hence customers could make the selections of the products that they want by themselves. These products did not need trained sales people to help the customers to make the choice..
The discounters business model enabled them to make money at an average gross margin of 23%..The operating procedures and stocking policies of these discount stores enabled them to turn around inventories almost five times and even at a gross margin of 23% they were still able to make 120% of the capital invested in inventory the same as the full service department stores..
Lets consider the choices that the full service department stores had when faced with this onslaught. The critical resource allocation decision of the full service retailer is the use of floor or shelf space. The full service department stores were faced with two options
Option 1..
Defend the product categories that the discount retailers were attacking…The discounters were offering around 20% lower prices for the product categories ..If the full service department stores decided to counter these offers it would lead to a reduction of 60% in return on capital deployed on inventory..
Option 2..
Allocate the shelf space to even higher margin products like cosmetics and high fashion apparel where gross margins often exceeded 50%..Since the stores were able to rotate the inventories three times in a year this would lead to a 150% annual return on capital invested in inventory..
So most of the department stores decided on option 2 and vacated the market. The same is not a unique case. Almost in all the lower end disruptions the incumbents always seem happy to not put up a fight and slowly vacate the space ..
What would be a good way to identify whether there is a potential for low end disruption or whether it makes sense for the incumbent companies to stay and fight. This could be done if the following two questions are answered affirmatively
1..Are there customers at the lower end of the market who would be happy to purchase a product with lesser but good enough performance if the same could be provided at a lower cost
2..Can we create a business model that enables us to earn attractive profits at the discounted prices required to win business of these overserved customers at the lower end. This could be by a combination of lower gross profit margin and higher asset utilisation..
The same principle has been successfully used by several companies some of whom are being listed down below
1..Amazon.com and Flipkart.com..started out as low end disruption to traditional book stores
2..MI mobile handsets in India which started out by offering good value products with rich features to the lower end of the mobile handset market
3..Canon Photo copiers..When Canon and Ricoh introduced table top copiers to counter the more professionally made Xerox photo copiers they couldn't produce the same quality of the copies as a Xerox but it was so inexpensive and simple to use that everyone started putting one in their offices..
4..Dell Computer..Its direct to customer retailing model and innovative manufacturing model allowed it to start off by offering computer at much lower prices than it then established players like Compaq,IBM and HP
5..Korean Auto companies like Hyundai and Kai captured the lower end markets in European and US markets utilising the same strategy and none of the existing players even bothered to compete with it
Like what we saw in the case of department stores the biggest dilemma faced by managers of existing players is whether they should invest to protect the least profitable end of their business which mainly includes the least loyal of their customers or whether they should invest to strengthen their position in the most profitable tiers of their business which also includes customers who reward them with premium pricing for better products. Most established company executives have chosen to vacate the lower end and move on to the more profitable segments ,By properly trying to address the two questions the establish companies could also stay and fight depending on the size of the markets..