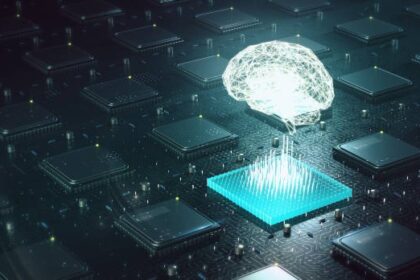 Both Learning and Artificial Intelligence are two topics about which I had written about earlier. To quickly refresh. In August 2020, I had written about learning styles which basically was about learning styles and how we could identify our natural learning style to learn and remember things in a faster and efficient manner. In November 2017 article had captured about how the advances in Artificial Intelligence (AI) was making into reality Cyborgs which was watched in science fiction movies in my childhood and some of the means by which this was being accomplished. Also, in my articles on habits published at the end of 2020 have also written about how various patterns get formed and reinforced in our brain when a new habit is being formed.
All learning that is done by all humans and in fact all living organisms is hierarchal in nature. As kids we first start moving on our four legs ,then learn to stand on our legs, we start walking and then running. So the steps to learn to run are hierarchal where we first learn to crawl on our four feet we build on that learning to stand and with the learning of the crawling and the standing we learn to walk and based on all the earlier learnings we learn to run. This is what is meant by learning being hierarchal in nature.
The various learnings types which build one on top of another in the same hierarchal manner as explained above are
a) Signal Learning
As the name suggests we learn to respond in a particular way to a signal…Simplest examples that come to mind are we picking the mobile when it rings or stopping your vehicle at a red light or waking up when the alarm rings.
b) Stimulus Response Learning
In this case a desired response is obtained by a series of rewards and punishments. The best example that comes to mind is that of a plant or tree which twists and turns to reach sunlight if the sunlight available to it has been blocked due to some reason. Here the plant or tree knows the rewards of having sunlight and hence it responds in a way to get to sunlight when the same is blocked. Or while you are driving you overspeed and get a speed ticket from an automated camera there are two things that happen, either you will always stay within the speed limit and you will definitely stay within the speed limit where the automated camera is placed.
c) Chaining
This type of learning involves connecting two or more previously learned skills in a sequence. The best example that comes to mind is what happens when you learn driving…Driving is actually a series of skills learned under the stimulus response. Skill to start the car, Skill to get the car moving by changing gears, Skill to when to change gears and when to increase speed, Skill as to when to change lanes and when to overtake, Skill as to when to stop and reduce speed. So, when you actually learn driving it's the end result of so many learnings which then get arranged in sequence.
d) Verbal Association
This is a type of chaining learning but which is verbal in nature, Or rather the items being connected are verbal in nature. For example, when you are learning a new language you actually think in the language that u know very well and are comfortable with and then convert the same to the new language using the right verbal linkages. This is one of the key skills that are required when we learn languages and this could explain why some people can pick up languages much more faster than others and why some people can learn to speak a language with ease but struggle to write the same.
e) Discrimination Learning
This involves learning to respond in different ways to a series of similar stimuli…The best example that comes to mind is how you respond differently to the same stimuli to your boss and to your sub coordinate …We also learn to differentiate between two types of cars even though they might look similar etc.
f) Concept Learning
This involves developing the ability to make the same response to different individual stimuli that come from the same class or category. Concept learning helps us to generalize. Taking on the same earlier example as driving once you learn to drive a bike, the basic process of starting, using the clutch and getting the vehicle moving, changing gears and so on are the same even if you drive a car.
g) Rule Learning
This higher learning is the ability to recognize relationships between concepts and to successfully apply these general rules to other scenarios, even scenarios not experienced by the learner earlier. The best example that is coming to mind are the numerous situations that we learn in our work environment. Some of these would be captured in SOPs which are there with you and some would have been learned on the job. But once learned the learning can be used in similar situations as they come up even if they are in different environments which haven't been experience by us earlier.
h) Problem Solving
This is the most complex learning which allows the learner to invent complex rules to solve a problem and then apply those same rules to other problems. The best example that comes to mind are the thump rules or the work around that we learn and develop to handle and manage certain situations. These thumb rules become a reference point or a rule for us which we end up using in several other situations also.
The above learning styles were first postulated by Robert Gyan.
All functions that the neural networks in our brain do is hierarchical…So let's take a small example when we move from a dark room to a room with much more light our eyes adjust to ensure only the right amount of light actually goes in and we are able to see the surroundings clearly. But this function or any other simple function that we perform as humans or identifying a particular model of car when we see one etc. are actually driven by a set of tasks which are hierarchical in nature.
What really adds to the complexity is that the light sensitive cells that detect the amount of light in a room do not directly talk or communicate to motor neurons which causes the iris in the eye to contract or expand. The light sensitive cells in the eye send messages along neural connections to a neuron in your brain. If this particular neuron gets enough build up of information from the sensory neurons, it then sends a signal to the motor neurons that control the iris.
How is this related to Artificial Intelligence?
Intelligence is defined as the ability to continuously learn thereby improving at skills over time.
Artificial Intelligence is the display of intelligence by a non-living object like a machine as opposed to Natural Intelligence which is seen in living creatures including humans. This artificially intelligent device perceives its environment and then takes action to optimize its chances of success at a given task…
But the challenge with most Artificial intelligence machines is that most of the machines are not created on the logic of neural networks but on logic components, for which writing code was easier when AI was getting developed.
The above has resulted in the following major differences between Natural Intelligence (NI) and Artificial Intelligence (AI)…So while NI communicates electrothermally AI communicates electronically. So, while NI has billions of neurons AI has billions of transistors. AI is also 10 million times faster from a computational perspective compared to NI which also explains why AI machines are capable can manage data and computational responsibilities with more speed and efficiency
To understand how AI machines based on Neural networks will be different and how they will use the eight learning skills which are used by NI, watch this space for more…